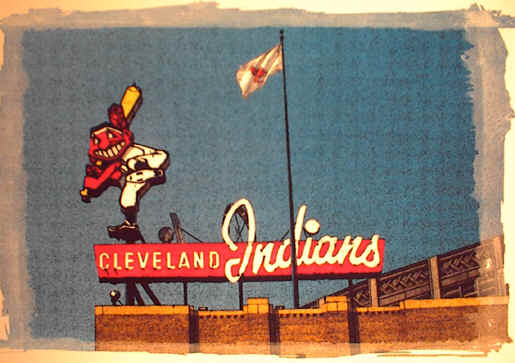 Does anyone remember this sign above Municipal Part Stadium? I can remember Opening Day in 1977...we were in general admission seating. I saw more of a steel beam than I did of the four double plays the Brewers turned on the Tribe that day. Can you say Andre Thorton? What a great role model he was for kids as he still serves in various ministries in the Cleveland-Akron area today!

Market Watch (Five Day Trading Range)
XLF Financials weekly trading range 24.33 to 25.18 Friday close 24.76
XLK Technologies
24.32 to 25.42 close 25.35 BOUGHT 1/25s call
XLP Consumer Staples 28.05 to 28.51 close at 28.49
XLV Health Care 31.47 to 32.18 close at 32.12
XLB Materials 43.11 to 44.79 close 44.45
XLY Consumer Discretionary
31.78 to 32.60 close 32.49
MISSED 1/32s @
2.15 Put
XLI Industrial 38.06 to 38.99 close 38.84
XLU Utilities 40.81 to 41.61 close 41.38

XLE Energy 88.52 to 85.02 close 86.00


Movement is the key for these SPDRs. Energy stumbled a bit this week in part to an price manipulation inquiry. As mentioned in previous articles...the stock markets in general are to a degree all about manipulation. Energy prices however allow a perfect time for a bit of DC style grandstanding... Look for energies for a 3-5% move up or down next week. (1) A number of the CNBC crew called the top of oil which invariably means that oil still has additional upside potential. The consumer may be taking on water, but evidently is not dead. However. depending on spending habits...for 10-15 % of the population the stimulus checks won't be enough. (2) That is part of the reason XLY should see some additional movement by January. Last, the weakened state of the U.S. dollar (Currency traders can say whatever they won't about the dollar's strength) is just taking a temporary breather. XLF (didn't someone say it was time to buy a couple of weeks ago?) was not helped out by KEY Bank's warning that losses could "double" ... this also did not bode well for
RKH
which has a beautiful downward movement on its 200 day average. Look for at metal prices next week. It appears that a sell off may be a bit over done at this point...(
London Metal Charts are just ugly
).....
VGPMX
continues to hold its own! Is Zeus , AKS, and CLF still a deal? I would have to think so!!! Private equity investors are increasing a stake in CLF as I write.
FSLR
could well be an ideal candidate for a strangle. The volatility is there. Five day high of 278. Low of 252. Currently 267.

Race for the Cure

Is there a more noble organization? The number of people who have cancer is just crazy. In a recent conversation with Dr. Chad Jacobson (University Hospitals Rainbows Baby and Children's Hospital) I asked his what it the real cause? Genetics? Food supply? Environment? Dr. Chad suggested that all plays a factor. We pray for those who are battling cancer. At one point in time, we found ourselves listing about 6-7 people we knew... That's just crazy! We lost Aunt Sandra three years ago this summer...and I can assure you that she was the finest person I knew!

Tribe Talk

The Cleveland Indians have golden opportunity to pull themselves out of self-destruct mode by opening an 11 game road trip against the Royals. The Royals have a .389 winning percentage...and one would think it is the perfect team to start a road trip with... I'm looking forward to seeing Ben Francisco get some at bats, Casey Blake to get hot, and the rest of the squad to get out of their hitting funk. My original hope of being .500 by Memorial Day did not materialize. While it was a legitimate call. Early May appeared to be so promising, it now looks as the small leak in the dike may get plugged. June...yes June is another month. After all, the "real season" starts after All-Star Break right. Maybe .500 going into the break...that would be a great spot. Let's [ray that the rest of the Central does not build an insurmountable lead... Cliff Lee 8-1! Pride pulled the squad together last night.


Clicks

My latest SA article,
What's New for Credit Card Companies
helped earn an additional 550 clicks ( nine applications) to close as 10707. This number is well below my expectation level suggesting additional exploration into other sites for marketing content. New posting sites needed...
Passive...semi-passive residual income ideas always welcome...


Sources Cited
1.http://articles.moneycentral.msn.com/Investing/JubaksJournal/TheEndOfTheOilStockRally.aspx
2.http://money.cnn.com/2008/05/09/news/economy/rebate_poll/index.htm?postversion=2008050912