Merrill CEO John Thain's Public Statements in the last seven months...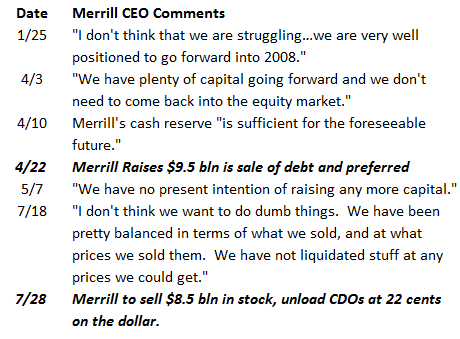 *http://seekingalpha.com/article/87681-how-screwed-are-the-investment-banks


If you think that is bad, MER was up $1.92 today... go figure!


Gold and other precious metals continued their slide suggesting that the government's latest shell game between the Fed and Treasury, at least now, has stabilized the dollar. This is more than we can say for our British cousins as The Bank of England's attempt to form a Fannie and Freddie Mae type system there is D.O.A.. Maybe the British are better off in the long run with a weaker pound as opposed to malfeasance and moral hazard..
Of course, the New Zealand and Australian dollar are also on a slide. (1)

Meanwhile back in the states, the Dow was up over 250 points. Why one might ask? Consumer confidence was up a little I guess... Maybe it was the fact that home prices dropped 15.8% in May. Banks must be thinking this is the magic bullet to start the whole charade again...lower housing prices.... more consumers that will buy houses... and a Bank of America licking its chops about the new mortgages they are sure to write with the old Countrywide division. We will just forget about the bad loans banks are currently holding, on the houses that are no longer worth the loan amount, the home equity loans, revolving credit card debt, and jobs... (2)

The big day on Wall Street allowed the spin doctors to pad the financials a little more. After all, there is only so much good news that can be manufactured. Oil prices will continue to move lower in part on the strengthening dollar, and less demand. On the surface, 3.75 a gallon gas has as an easing effect on the consumer to some degree, however for some Americans like truckers... or folks who commute over 20 miles a day round trip... they are hurting. (3) I'm sure the likes of Iran, Venezuela, Nigeria, Sudan, and Libya enjoy tweaking the noses of the west. (Note: It is interesting that Bush's Axis of Evil Speech dealt with Iran and Venezuela two countries that are trying to price oil in a different currency than dollars... therefore weakening it!) The jobs reports on Wednesday, Thursday, and Friday should shed additional light on this subject.



Thoughts


Shorting Banks in Britain... shorting the Pound FXB 9/198s or 12/198s
FHN...serving Tennessee -2.56 eps... 2/10s
Zion with loans concentrated in AZ, NV, and CA commercial, land, and mtg. not an enviable position!



Sources Cited


1. http://www.kathylien.com/site/us-dollar/dollar-rally-just-beginning
2. http://biz.yahoo.com/ap/080729/home_prices.html
3. http://biz.yahoo.com/ap/080729/oil_prices.html