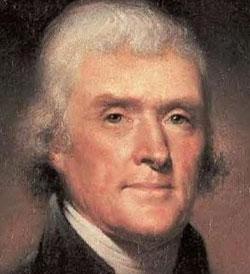 Thomas Jefferson knew the power of rich financiers... although he respected the concept of a National Bank, Jefferson also realized that a central bank could well be more dangerous than a foreign army, or battle ready militia within our own borders. Jefferson said "I believe that banking institutions are more dangerous to our liberties than standing armies. If the American people ever allow private banks to control the issue of their currency, first by inflation, then by deflation, the banks and corporations that will grow up around [the banks] will deprive the people of all property until their children wake-up homeless on the continent their fathers conquered." (1) While Jefferson noted the Bank of the United States established a foundation for financial stability, he also knew that it came at a price. Within a 35 year period, and six Presidents later the Bank of the United States had grown too powerful and manipulative.
For Andrew Jackson, the bank was big...too powerful... and it compromised the U.S. government. Jackson cited several areas as to the power of the bank including:
* It concentrated the nation's financial strength in a single institution.
* It exposed the government to control by foreign interests.
* It served mainly to make the rich richer.
* It exercised too much control over members of Congress.
Later, Jackson opined that the shareholders of the bank always received the benefits of the central bank, but did not share the same risks as did the American taxpayer. The members of Congress and financial elite even went as far as threatening Andrew Jackson with a depression unless he renewed the bank's charter. Financial manipulation and threats did not move Jackson, and he ended the bank. Out of all Jackson's accomplishments, Jackson cited end end of the bank as his greatest accomplishment. On his grave stone he has the words inscribed" I Killed the Bank." Please understand that the Fed is nothing more than a resurrected version of the bank that Jackson killed. And with it, the good, the bad, and the ugly.
Congress Scares Me...
If I didn't know better, I would say that Congress has been running around like a chicken with its head cut off. Not to say that its members are not well-intentioned, but there really seems to be a general theme of stabbing in the dark at this financial meltdown. TARP I did nothing more than: 1. Buy preferred shares in financial institutions. 2. Gift banks and several other institutions operating capital. There was not much benefit from the program other than keeping some of the same people who helped create this mess in power, and save their companies. While an argument can be made that systemic risk was avoided with a Wall Street collapse, massive unemployment, and a wipe out of retirement accounts, at a bare minimum it showed that Congress did want to make the situation worse. The TARP failed in solving any long-term problem. Regulations are on the way!!!
TARP II will be interesting. The wrangling thus far has floated ideas such as loan forgiveness, consumer credit forgiveness, and even new loan programs for home builders. Everyone should be suspicious when credit card companies and consumer advocacy groups are teaming up to "help." The stimulus package debate now includes pork barrel projects for the humanities and CDC. Quite often the expression has been used in DC that someone has taken their eye off the ball. While some version of this stimulus package will pass, we can only hope that this ball is knocked out of the park. At a bare minimum, states and schools will receive needed funds... for now. Unfortunately, it also established a precedent where the Federal government is increasing deficit spending in a time of peace. Surely, spending at this rate is unsustainable. I like a legacy of truth, justice, and the American way as the future we leave for our posterity, not debt and pessimism!

Bottoms-up?
There are some who would like us to believe that the market bottom has been successfully tested. Only too quick to jump on the wagon, CNBC rode the rally wave as the FED fired a few more salvos today. Evidently, the BAD BANK is gaining traction on Capitol Hill. Finally, Wall Street greed may be saved at the expense of our citizenry. Maybe Wall Street and our citizenry are now synonymous now. What is good for Wall Street is good for America, and what hurts Wall Street hurts America... However, our Founding Fathers were concerned if and when institutions became so powerful, that they would consider themselves more important than the people our government was sworn to represent. If that happens, then our Democracy is compromised.
I do not think the bottom is in; not yet. GDP numbers are due later this week coupled with jobless claims. In my humble opinion, the market will still finish down for the week. T-Bills are the next bubble. Anything that is short-term government interest may go to a negative yield curve. Also, there is no guarantee that any institution besides the Treasury will finance U.S. government debt... and that is the 800 pound gorilla that just won't disappear.